As part of their thesis work, twenty four deaf students representing the graduating batch of Manila Christian Computer Institute for the Deaf attended in the yearly seminar-workshop on Web Accessibility held last April 2 and 3 conducted by Jojo I. Esposa Jr. and Sir Ervin R. Reyes at MCCID Lecture Hall.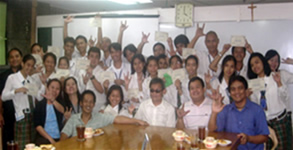 The students then used the lessons they acquired for the web sites that they have created this summer. They have completed the design work and added accessibility features on the following non-profit organizations:
LILIANE FOUNDATION PHILIPPINES
PHILIPPINE CHRISTIAN FELLOWSHIP FOR THE DISABLED, INC.
WHEELCHAIR FOR THE DISABLED FOUNDATION, INC.
HOUSE WITH NO STEPS FOUNDATION, INC.
NATIONAL FEDERATION OF COOPERATIVES FOR PERSONS WITH DISABILITIES
CAPITOL CITY BAPTIST CHURCH DEAF MINISTRY
DEAF COMMUNITY DEVELOPMENT OF PAETE, INC.
ROLANDO LANDICHO'S DEAF HANDICRAFT
This activity is the students' way of helping empower these non-government organizations by having their web presence so that they may be able to reach out to potential donors and financial supporters. Four sites will have their own paid webhosting accounts while the rest will be hosted for free by MCCID Online.
Then last April 14, the graduating class presented their finished work to the officials and staff of National Council on Disability Affairs (NCDA formerly NCDA) led by Deputy Executive Director Mateo Lee and Technical Cooperation Center Chief Ms. Nelia De Jesus. Certificates were given to the successful participants with no less than NCDA Chairperson Mrs. Lovely Rosie Romulo attached her signature. She also paid for the snacks for all the students and NCDA staff.
After learning from the seminar-workshop attended by MCCID in 2004 at Tagaytay City, the school incorporated web accessibility on the www.mccid.edu.ph and at the same time include accessibility features in the websites that they will create for free to their selected institutions. The book "Basic Web Accessibility Guide for Filipinos" was the main resource material used. Selected websites that passed the evaluation of Philippine Web Accessibility Group was also presented as samples.