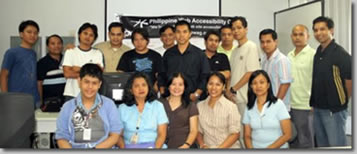 Successful trainees pose with (standing middle) Jojo, Rey, (seated middle from left) Ma'am Grace and Ma'am Nel.
The CSS training and workshop that PWAG pioneer Rey Mendoza conducted at National Computer Center from June 19-20 was successful thanks to the assistance of National Computer Center, National Council on Disability Affairs and PWAG.
Special mention goes for Ma'am Grace Amberong and Ms. Lanie Arminio of NCC, Ma'am Nelia De Jesus of NCDA and PWAG president Jojo Esposa. More than 15 participants attended and they were also very interactive. They asked a lot of questions which signified their interest.
Participants came all the way from Bacolod (Rebie Relator c/o Cataract Foundation), Aringay, La Union (Elvira Pajo), Bicol University (Jose Michael Appan) and from Phil Rice Institute in Nueva Ecija (Marlon Velayo and Arturo Arocena Jr.). There were also attendees from RCPI (Francis Leif Albacite, Rico Jay Villanueva, Reymar Fadriquela and Maurice Banaag), Ace Tech. Inc. (Brenn Cemanes), Philippine General Hospital (Dr. Darius Del Rosario), Manila Christian Computer Institute for the Deaf (Jefferson Cortez), NCDA (Dandy Victa), a student (Kim Selorio) and three personnel representing NCC.
Web Accessibility was promoted by Jojo Esposa and all participants were willing to be part of the solution after his talk, meaning they all want to make their sites aceessible after they learned about it. There will be more projects from PWAG so watch and read this e-group as we are looking to go to Cebu and conduct more trainings around the country.
Photos are available at Rey's Picasa website