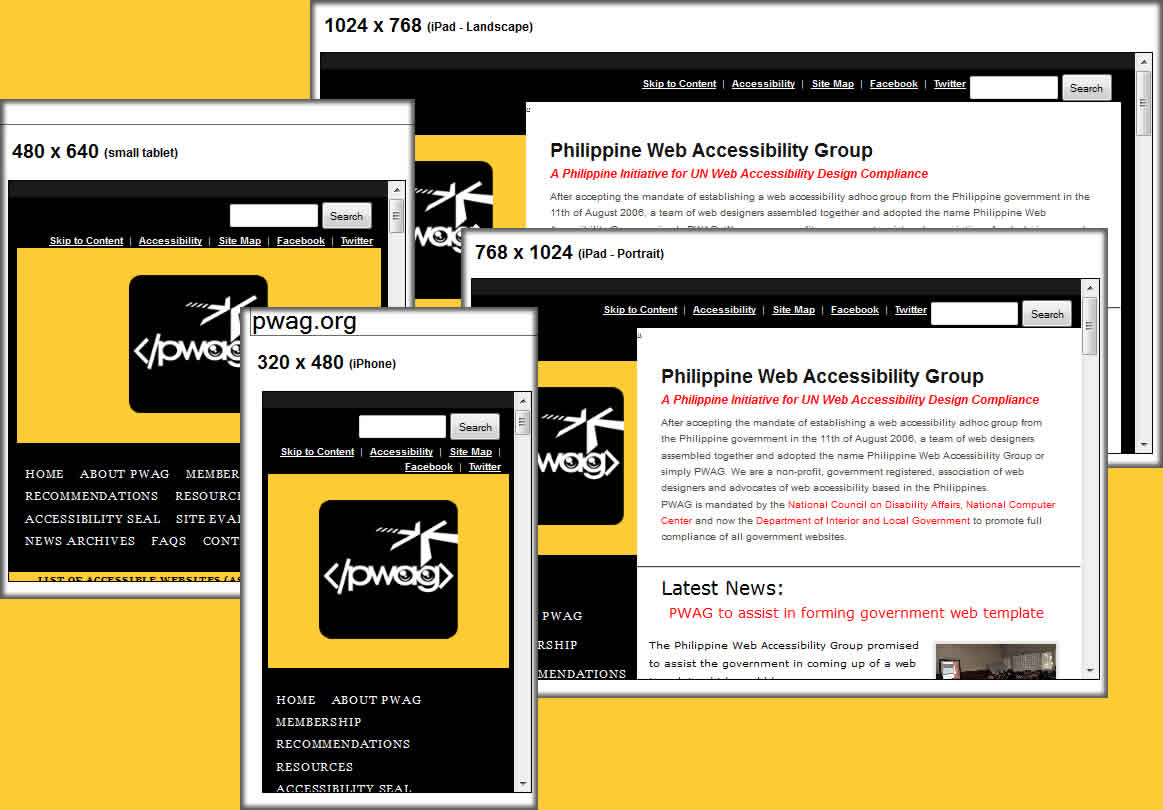 Screenshot of PWAG website in various devices
The Official Website of Philippine Web Accessibility Group now sports a new minimalist design.
The newly redesigned web pages are consistent with its design and column positions all throughout the web site using the 2-column format. The site is now a Content Management System site using WordPress. It also incorporated the latest trend called Responsive Web Design with accessible enhancements using WPZoom Template Theme. It means that the site can be viewed in any screen size and resolution without creating a separate page.
Share This buttons
Aside from the responsive look, PWAG now joins the social network bandwagon. The top bar includes
Facebook
and
Twitter
links. Each content page also has "Share This:" buttons below for easier sharing to other social networking sites.
The design specifications are:
The top most bar has the Skip to, Accessibility, Site Map, Facebook Link, Twitter Link and Search box for easier access.
The left column is composed of the PWAG logo which appears at the top left corner. The navigation links of pages are listed below the logo. The list of accessible websites also appear here.

Reader Mode Feature

The right column is composed of the following:

The PWAG name, Slogan and brief introduction.
The header bar covers all the important links.

The Main Content has the following:

Bread crumbs or composed of link pages where the viewer is currently located
Anchor links appear on some pages. Clicking it would go directly to the title.
Reader Mode link appears on news articles only. Clicking it would direct you to a new page with a reader book style without clutters. This is very useful especially to tablet PCs using e-book formats.
Content Area
Bottom Links
Copyright and Email Link at the bottom
PWAG members are now encouraged to submit articles and special features by clicking at the Login link at the footer in to their WordPress Account.
Aside from complying with all the checkpoints of Web Design Accessibility Recommendations, PWAG also passed the XHTML 1.0 Strict Document Type, Color Contrast and Web Content Accessibility Guideline 2.0 Level AA (according to AChecker).